"Echinoderm diversity with new genera described in Rapa-Nui (Easter Island)"
What was the most challenging aspect of your study (can be anything from field, lab to analysis)?
Working on such a small and isolated island as Rapa-Nui (Easter Island) results in that any part of the fieldwork becomes a challenge. The transport and deployment of the equipment (ROV), the availability of fishermen boats or weather conditions are few of the lots of things that can complicate the samplings. Fortunately, in the end, all is fixed in a way or another and we can do our work in the best conditions.
What was the most memorable moment in undertaking this study?
The most memorable moment for me was the first time I worked on Rapa-Nui. There is an extraordinary place between the high Orongo cliff (an old volcano crater) and two small islets called Motus (Motu Nui and Motu Iti). This is the point where the Tangata manu (Bird Man competition) took place a long time ago. To see the rough landscape of the island and the mysterious Moais from the small fishing boat was one of the most amazing experiences of my career.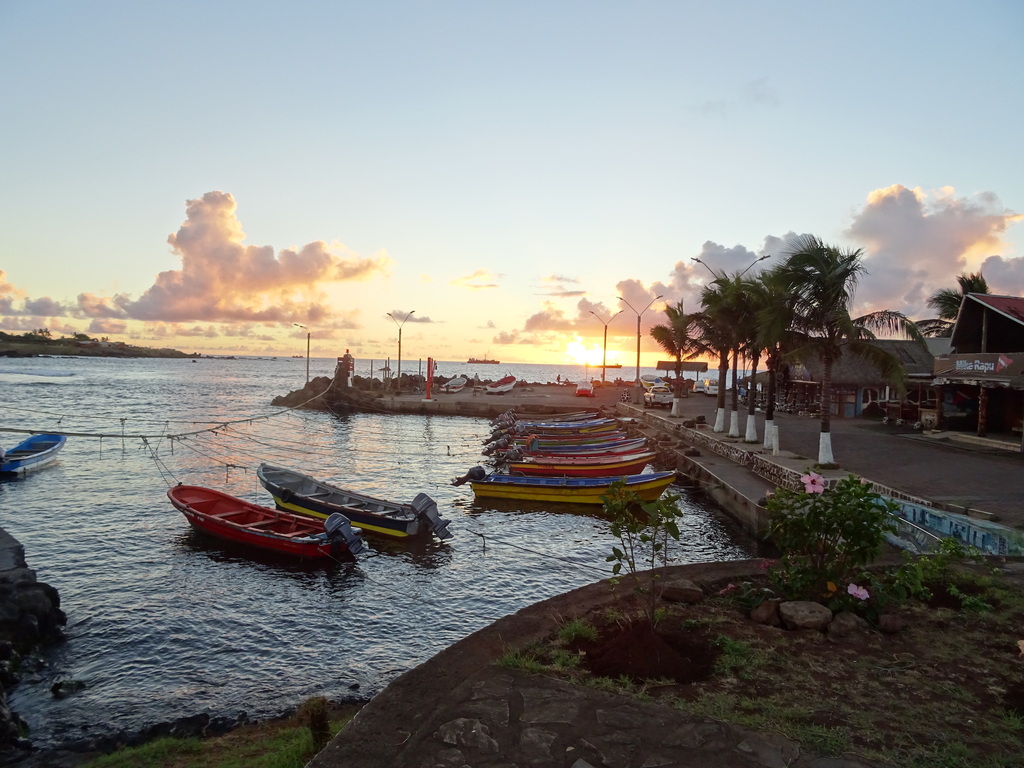 Hanga Roa Bay, the largest bay of the island of Rapa-Nui (C) Ariadna Mecho (ESMOI)
[CC BY-NC 4.0]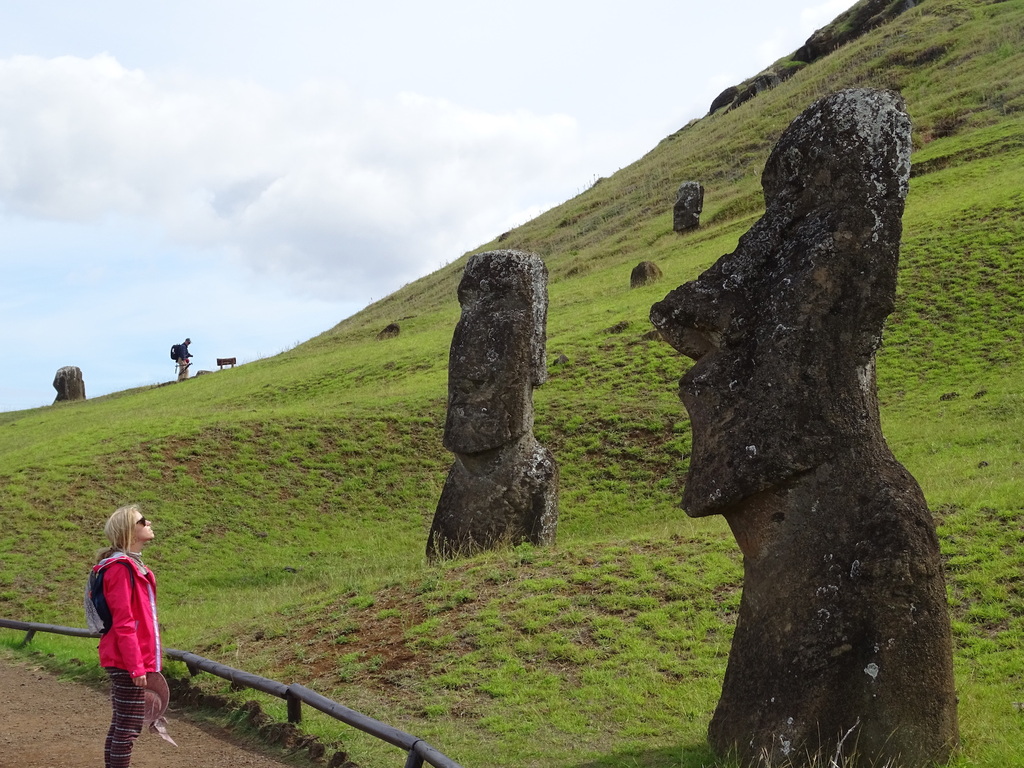 Moais from the outer slopes of Rano Raraku quarry (C) Ariadna Mecho (ESMOI)
[CC BY-NC 4.0]
What was your favorite research site in this study and why?
My favorite research site in this study is the Pukao seamount. It is a small seamount located 98 km west of the island with a rocky summit at ~ 160 m depth. It is a pristine area, full of colorful fishes, encrusting sponges, whip corals, and echinoderms. We were very lucky to be able to deploy our ROV there.
Other than your co-authors, with whom would you like to share credit for this work?
All the work our group is doing on the island could not be done without the help and advice of the Rapa-Nui people and fishermen. For this reason, we are really thankful for being allowed to work on the island and to have met their people. The present research was achieved thanks to the Millennium Nucleus for the Ecology and Sustainable Management of Oceanic Islands (ESMOI) and NGO Oceana that supported and actively collaborated with this study. Finally, I would like to thank Dr. H.A. Lessios and Dr. M. Mihaljevic, and especially to Dr. F.W.E. Rowe for their help with the taxonomical classification of the echinoderms.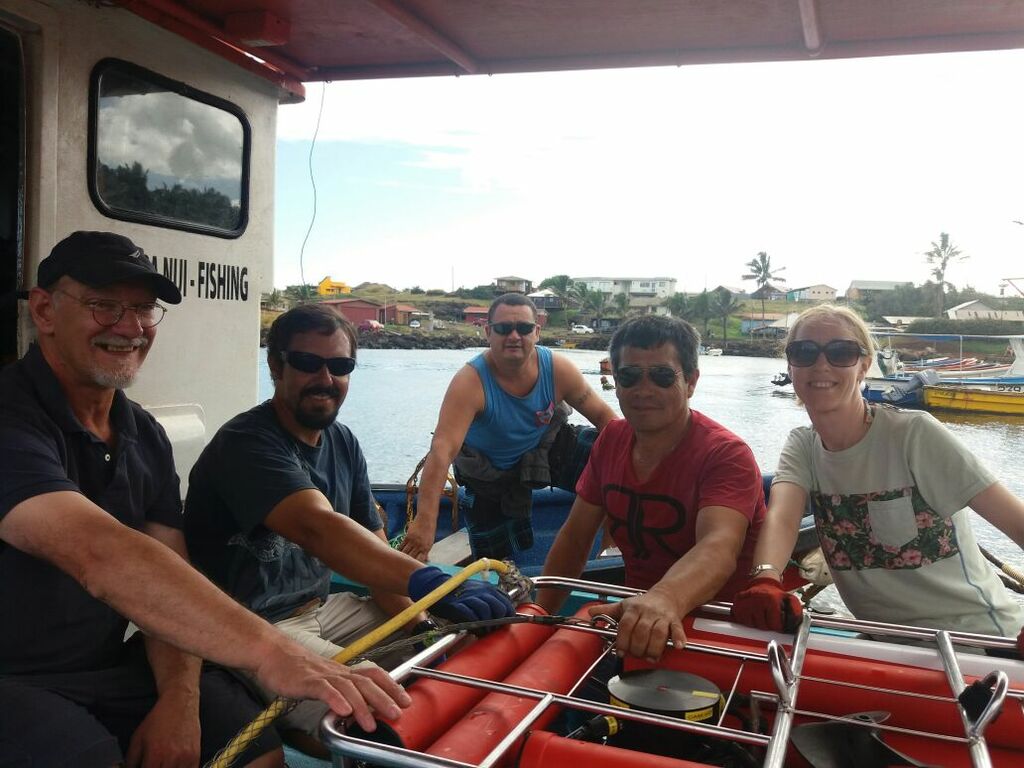 Part of our team on the Kajiki boat. From left to right, Mathias Gorny, Javier Sellanes, the owner and the captain of the Kajiki, and Ariadna. (C) Javier Sellanes (ESMOI)
[CC BY-NC 4.0]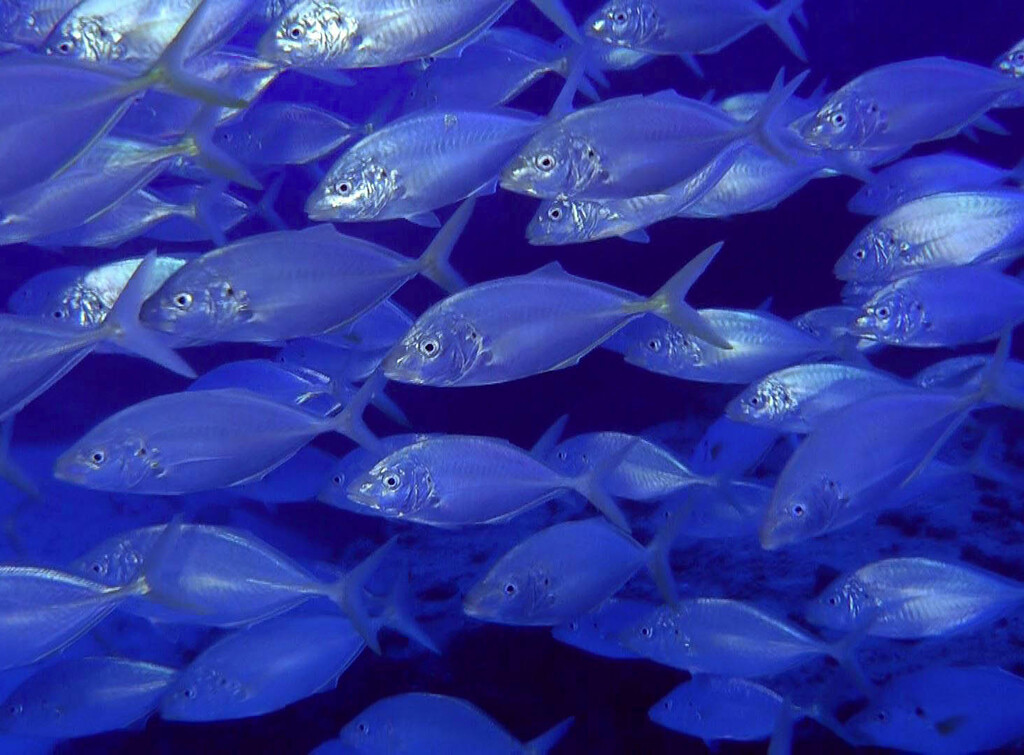 School of Po'o Po'o (Pseudocaranx cheilio) (C) Matthias Gorny (NGO Oceana)
[CC BY-NC 4.0]
Any important lessons learned (through mistakes, experience or methodological advances)?
In our videos, we detected species suggested to be new for science however, without specimens we cannot have conclusive classifications. Last time we tried to deploy a small trawl from a fishing boat without success. For our next fieldwork, we will try again with a new design more adapted to the small trawl and the size of the boat. We are optimistic that this time we will catch several of these unknown species.
Can we expect any follow-up on this work?
Yes, of course! Currently, we continue our research on Rapa-Nui with a National Fondecyt Project (2018- 2022). The project aims at identifying if mesophotic reefs at Chilean seamounts and oceanic islands (Rapa-Nui and Desventuradas Islands) are a refuge for biodiversity in front of anthropogenic threats. In addition, it includes international collaboration with other Research Centers in the Pacific as the Institut de Recherche pour le Développement (IRD, Tahiti, France, Dr. Jean-Claude Gaertner), Bishop Museum (Hawaii, Dr. Richard Pyle), NOAA Papahānaumokuākea Marine National Monument (Honolulu, USA, Dr. Randall Kosaki) and other international groups as the University of Texas (Rio Grande Valley, USA, Dr. Erin E. Easton).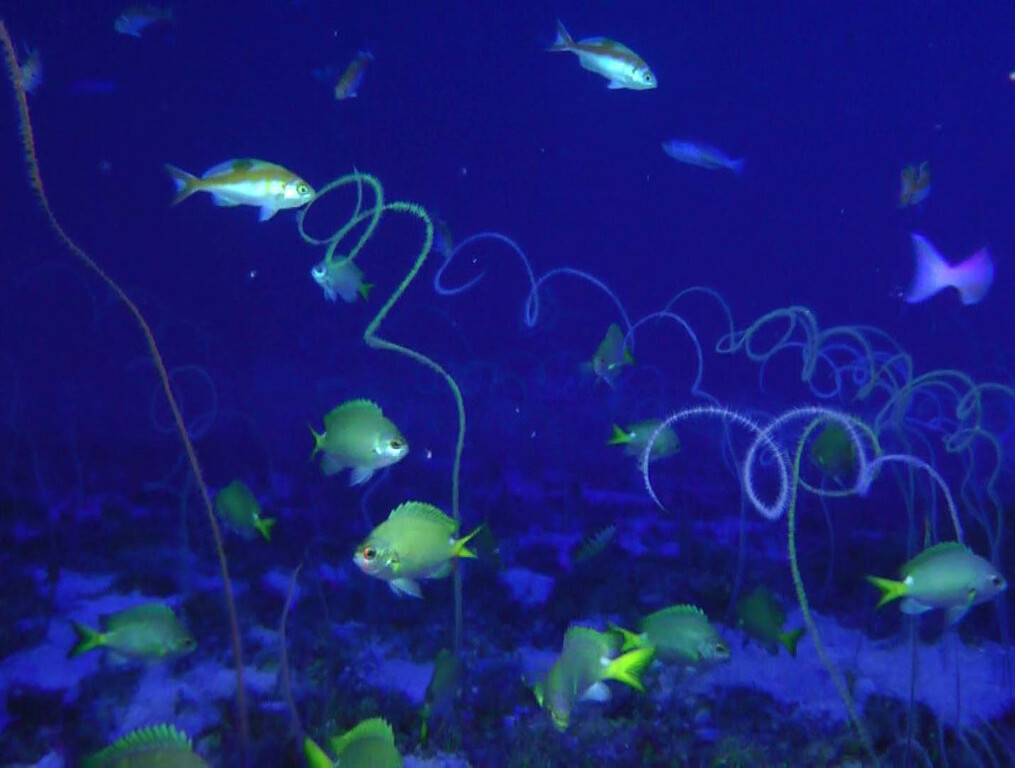 Whip corals at 150 m depth. (C) Matthias Gorny (NGO Oceana)
[CC BY-NC 4.0]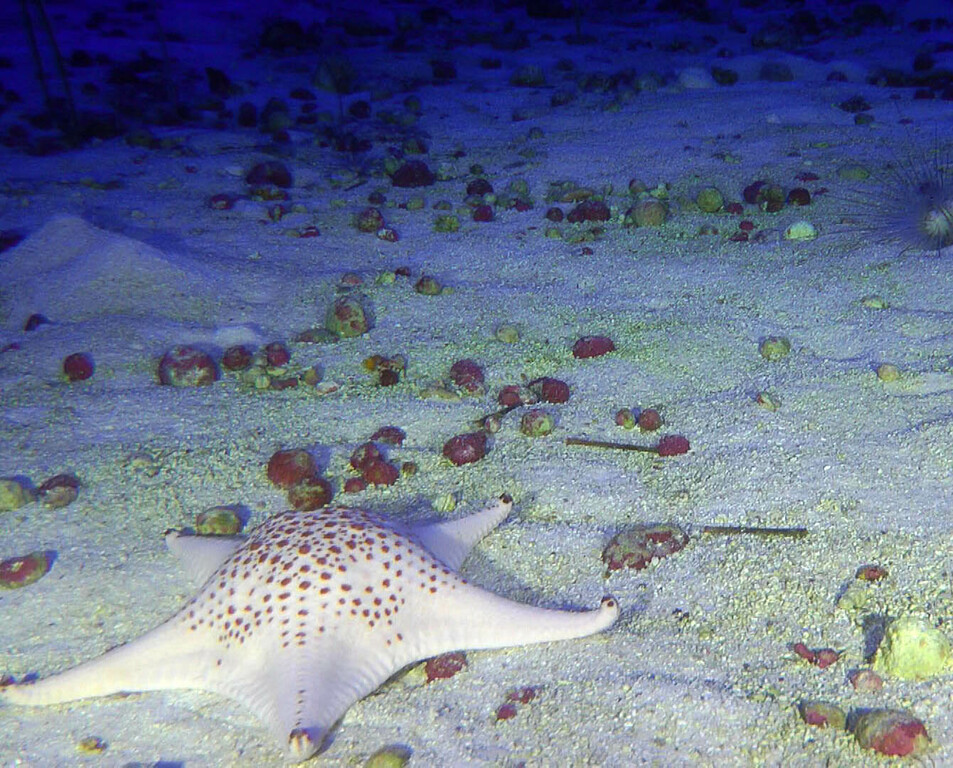 Asteroid from the Family Oreasteridae, tentatively identified as a new genus and species (Pukao seamount). (C) Matthias Gorny (NGO Oceana)
[CC BY-NC 4.0]
Featured article: