"Novel fish species from lower mesophotic reefs (90-120 m) of French Polynesia and Marshall Islands"
What was the most challenging aspect of your study (can be anything from field, lab to analysis)?
The most challenging aspect of this work is the logistics surrounding safe technical diving in remote locations. Getting our gear from the California Academy of Sciences in San Francisco to our research locations is almost always difficult, as is securing the necessary dive support and materials in the various sites we visit. We have to locate suppliers that can acquire and ship the proper grades of helium, oxygen, and sofnolime (the CO2 absorbent material for our rebreathers), to the field location before we arrive. It can be one of the hardest parts of planning an expedition. In this case, we were also collecting living fishes for the Twilight Zone: Deep Reefs Revealed exhibit at the California Academy of Sciences, so we had to bring aquariums, life support systems, our portable, submersible, fish decompression chambers (the SubCAS), and a couple of Steinhart Aquarium biologists to help manage the fishes' decompression, care for them during the expedition, and then pack and ship them back to the states. And, we were deploying ARMS, so we had to transport them as well.
What was the most memorable moment in undertaking this study?
The most memorable moment in this work was when we found a 'proper' mesophotic coral reef. After 15 dives scouting about 10 locations on two different islands in French Polynesia, we finally located the kind of habitat that hosts the specific types of fishes we were looking for. It was very exciting, and we were all screaming at each other underwater when we saw the fishes!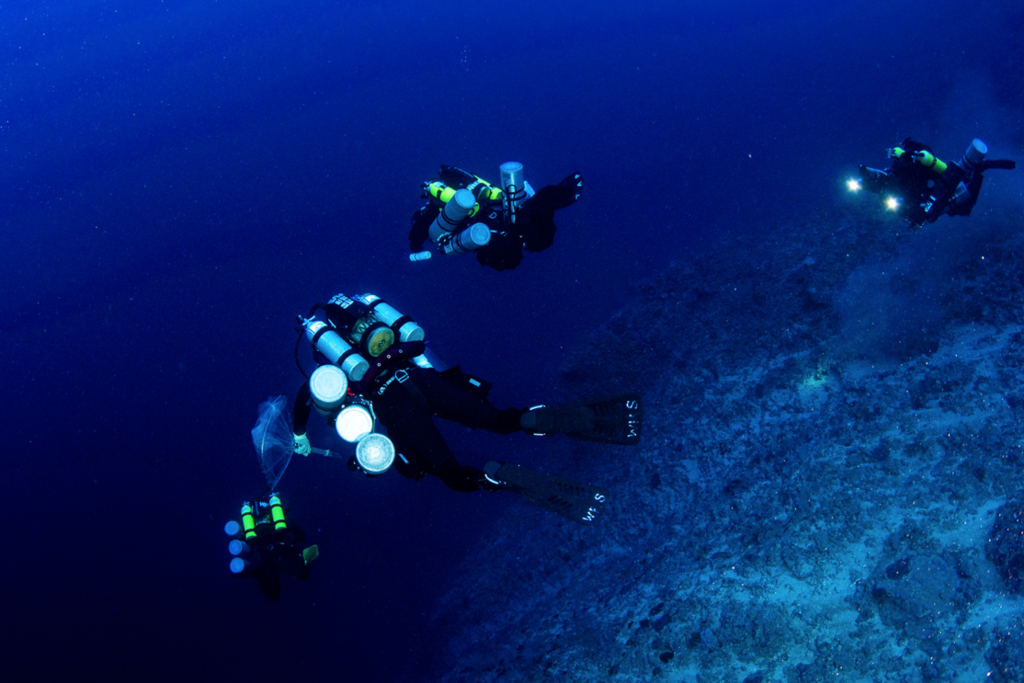 Members of the California Academy of Sciences' rebreather dive team (from left), Hudson Pinheiro, Bart Shepherd, Tyler Phelps, and Mauritius Bell, descending to a mesophotic reef in Mo'orea, French Polynesia (C) Luiz Rocha, California Academy of Sciences
Tyler Phelps with a (literal) boatload of gear. This was just a portion of our equipment as it was being transported from Tahiti to Mo'orea for the second phase of our research in French Polynesia (C) Bart Shepherd, California Academy of Sciences
What was your favorite research site in this study and why?
The deep site off of Sofitel, at about 110 meters. It is a beautiful, coralline algae dominated reef with lots of small pockets and crevices. This kind of habitat is home to the kinds of fishes that I find most interesting- small basslets, angelfishes and wrasses. And we generally see some incredible invertebrates there too, including corals, echinoderms and crustaceans.
Other than your co-authors, with whom would you like to share credit for this work?
It wouldn't be possible for us to do this work without the generous donors and supporters of the California Academy of Sciences' Hope for Reefs initiative. We are incredibly grateful to Teurumereariki Hinano Teavai Murphy, former associate director of the University of California Berkeley Gump Research Station and president of the cultural association Te Pu Atitia. We named one of the new species after her in honor of the significant contributions she has made supporting Polynesian biocultural heritage and field research in Mo'orea, French Polynesia, and the direct assistance that she provided us for this study. I'd also like to thank the individuals and companies that provided logistical support for this fieldwork: Gilles Siu, Luke Roattino, Christophe Cicculo, SubTecnologie, and Indies Trader, and the two Steinhart Aquarium biologists who joined the expedition, Nick Yim and Steven Yong. I'd also like to thank Matt Wandell, who helped us develop the SubCAS, our portable, submersible fish decompression chamber, that allows us to bring these fishes back to the Academy and showcase them in our aquarium. And of course our dive officers, Mauritius Bell, Marina Bozinovic, Mark Lane and Allison Shafer, who make sure we are safe, and keep our equipment all running smoothly.
Any important lessons learned (through mistakes, experience or methodological advances)?
Local politics can be challenging. We ended up having our permits entangled in politics between the different research laboratories on the islands. It's hard to know what you are stepping into when it is your first time on an island.
Can we expect any follow-up on this work?
Once the world opens back up and it is safe for us to travel again, I expect that we will continue to conduct these kinds of expeditions and collect more new species of fishes from mesophotic reefs. I'm excited to get back into the water!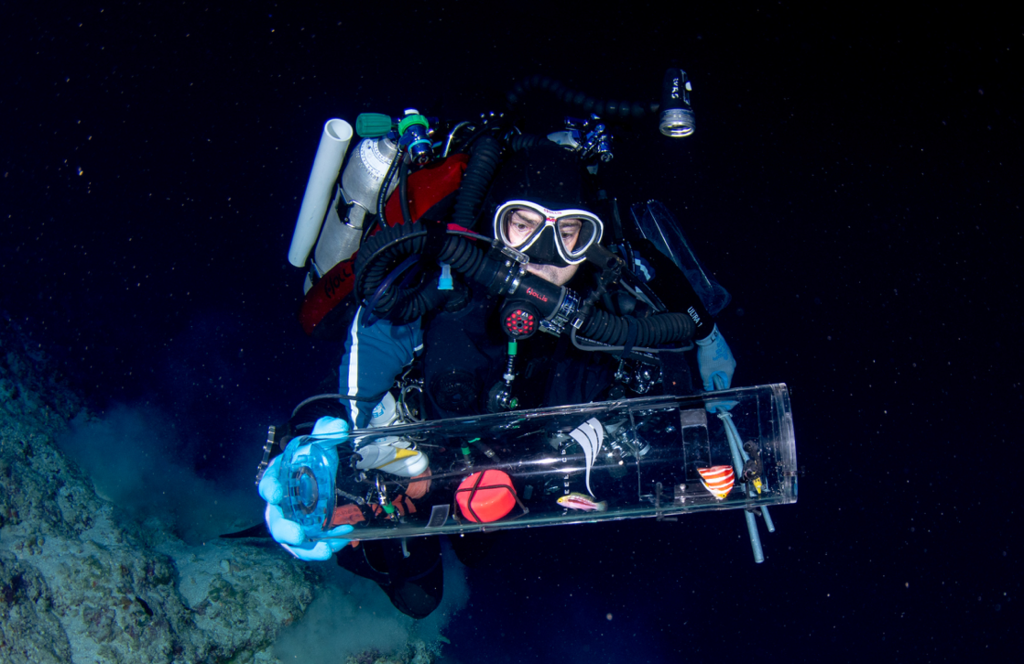 Bart Shepherd with mesophotic fishes in the collecting jar of the SubCAS, a portable, submersible fish decompression chamber developed at the California Academy of Sciences (C) Luiz Rocha, California Academy of Sciences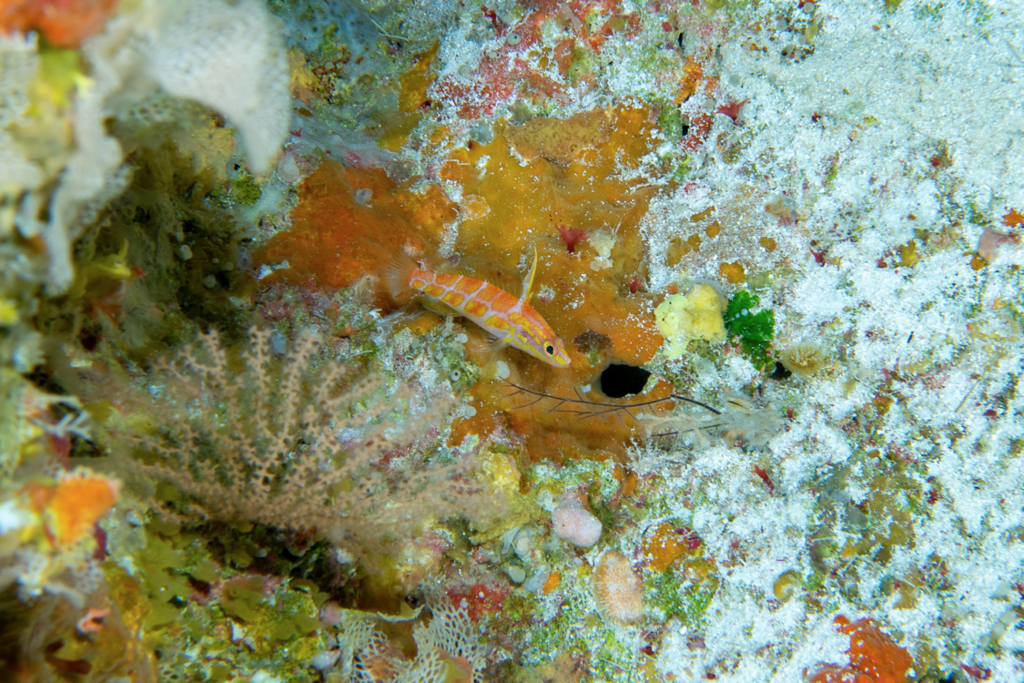 Plectranthias polygonius, one of the new species described in the study, in its natural habitat in the Marshall Islands (C) Luiz Rocha, California Academy of Sciences
Featured article: