"Environmental drivers of deep reef community composition change across a latitudinal gradient"
What was the most challenging aspect of your study (can be anything from field, lab to analysis)?
Underwater imagery processing was a definite bottleneck in the study. We had naively hoped that AUV image annotation could to a large extent be automated to consolidate community data across all the sites surveyed along the Eastern Australian shelf - from subtropical ones in SE Queensland to cold temperate ones in Tasmania. In practice, we had (and still have) a fair way to go before automation of AUV image scoring could (can) reliably be used in routine. We are currently consolidating datasets of annotated images so as to develop our capacity to process underwater imagery in a semi-automated manner.
What was the most memorable moment in undertaking this study?
Well, the scope of this study was to predict the consequences of climate-driven ocean changes on temperate mesophotic reefs in Eastern Australia. So to get there, a necessary step was (1) underwater imagery processing (largely performed by Lainey James during her MSc project by the way) then (2) data crunching to relate habitat formers occurrence to environmental conditions. So a memorable moment might possibly be this meeting when we (with co-authors) sat down to look at all the results I had produced in terms of broad biogeographical distributions of the different morphotypes, and expected redistributions by 2060. I am much more of a numerical than a field ecologist so this possibly sounds geeky but I had spent months testing and comparing distribution modelling approaches (and getting stuck into the technical details of the numerical work). As I was not definitely set about which models to use yet, I had not yet stopped to look at the broad patterns emerging from the predictive modelling of morphotypes' responses under projected climate change so this meeting was the first time we collectively realised there were some important broad patterns emerging from the data and the modelling.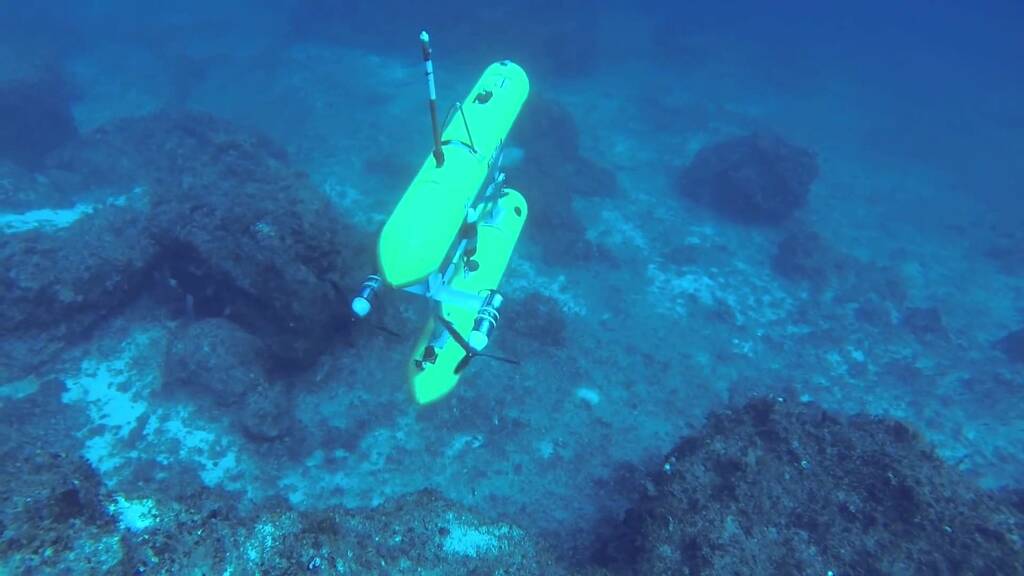 The Autonomous Underwater Vehicle (AUV) Sirius in action in southeastern Australia. (C) IMOS AUV node
[CC BY-NC 4.0]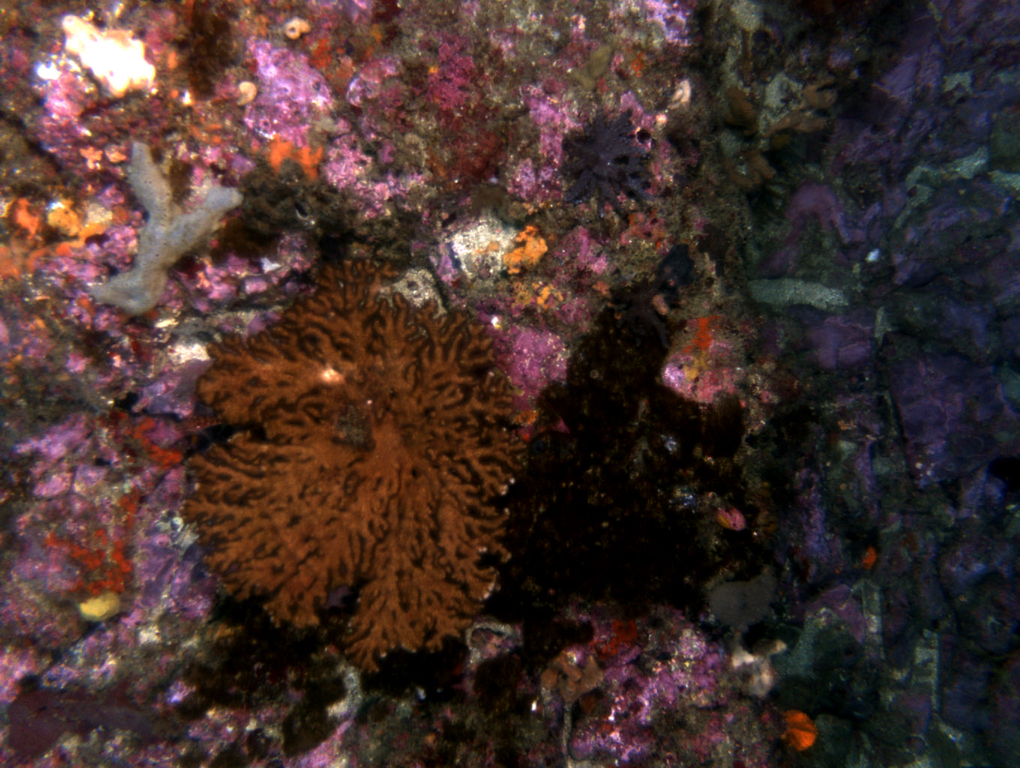 AUV image of octocorals in the Solitary Islands (New South Wales 2012 IMOS AUV campaign). (C) IMOS AUV node
[CC BY-NC 4.0]
What was your favorite research site in this study and why?
Sponge gardens around Tasmania, I believe (cf. see pictures of sponge gardens). While corals and other tropical habitat-formers get their fair share of attention, I find temperate sponge gardens just as beautiful and possibly just as key in terms of maintaining ecosystem structure, productivity and functioning.
Other than your co-authors, with whom would you like to share credit for this work?
Stefan Williams' ACFR (Australian Centre for Field Robotics) group at the University of Sydney and Australia's Integrated Marine Observing System (IMOS) AUV node for AUV field work, collecting the imagery and making image annotation as friendly as possible thanks to their home-made 'Squiddle' interface (Special thank you to Ari Friedman concerning Squiddle).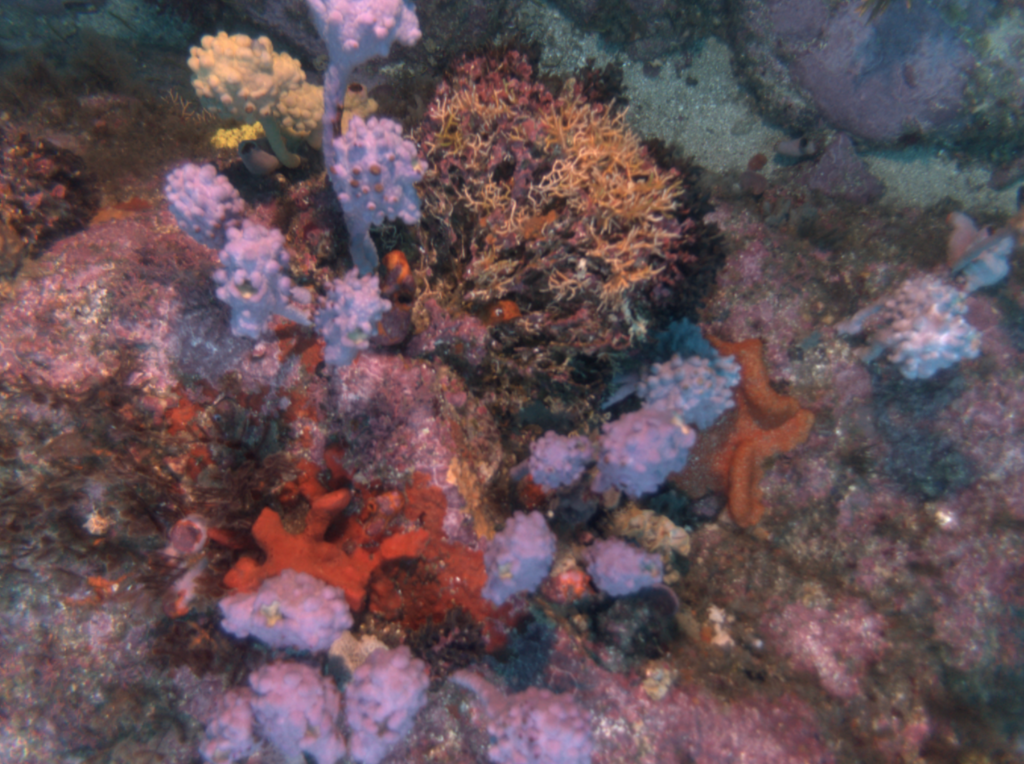 AUV image of stalked solitary ascidians and bryozoans in Batemans Bay (New South Wales 2010 IMOS AUV campaign) (C) IMOS AUV node
[CC BY-NC 4.0]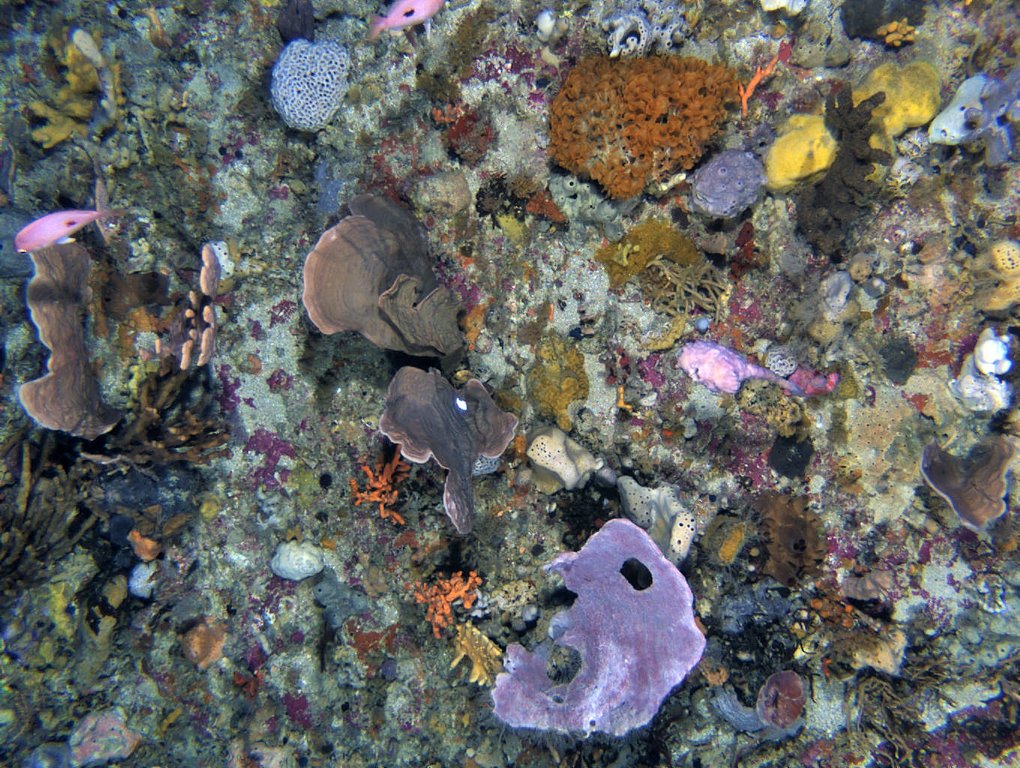 AUV image of sponge gardens in Bass Strait. While these sponge gardens are similar to the ones surveyed in eastern Tasmania for the study, these photos are from a more recent campaign (Tasmania 2017 IMOS AUV campaign) (C) IMOS AUV node
[CC BY-NC 4.0]
Any important lessons learned (through mistakes, experience or methodological advances)?
I guess that yes I did learn a few things along the way… But the main one was that underwater imagery processing takes (a lot of) time and that we do need to build common databases of annotated images to progress on automated annotations. I was faced with the scarcity of data available to automate image processing at the start of the project, which led us to visually analyse a subset of the available images. I guess that we do not think of scored images as valuables that ought to be placed onto some public repositories (as we are often more focused on the ecological patterns that come out of these than on the actual annotations associated with each image). But it is essential to get better at consolidating large datasets of scored underwater imagery and we are currently working in that direction here in Brest.
Can we expect any follow-up on this work?
I am now based at the French Marine Research Institute IFREMER in Brest, France so I am a little remote from Australian-based case studies for now. But we (together with an interdisciplinary team of colleagues here in Brest) have been developing Deep Learning methods for automated processing of underwater imagery, and part of this image processing work relies on the annotated images associated with this dataset so there is definitely some work-in-progress in that image-based benthic ecology space.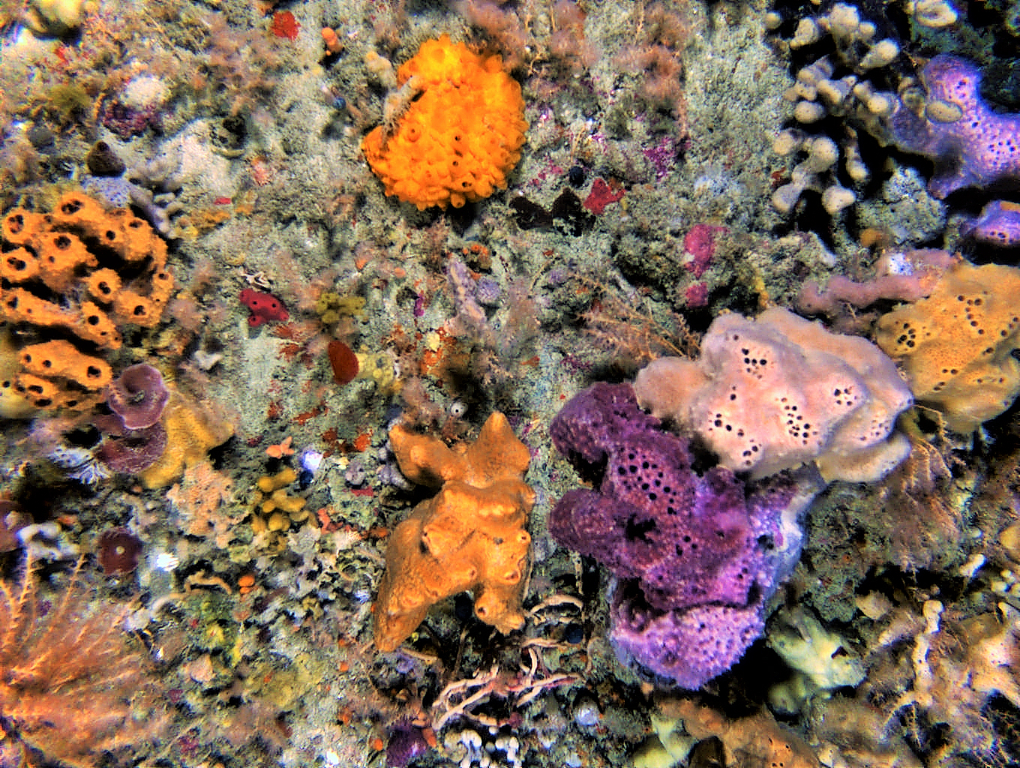 AUV image of sponge gardens in Bass Strait. While these sponge gardens are similar to the ones surveyed in eastern Tasmania for the study, these photos are from a more recent campaign (Tasmania 2017 IMOS AUV campaign) (C) IMOS AUV node
[CC BY-NC 4.0]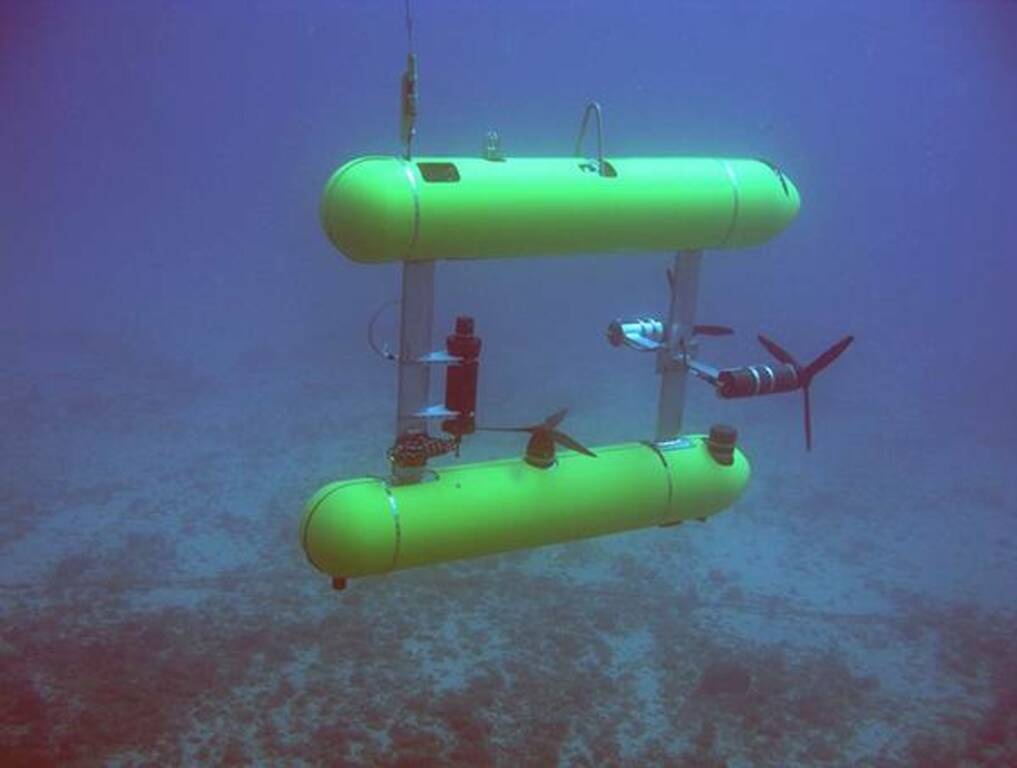 The Autonomous Underwater Vehicle (AUV) Sirius in action (again) (C) IMOS AUV node
[CC BY-NC 4.0]
Featured article: