"Stable fish assemblages in isolated reefs of Western Australia"
What was the most challenging aspect of your study (can be anything from field, lab to analysis)?
The Australian Institute of Marine Science (AIMS) has been researching and monitoring Western Australia's northern reefs for decades with baited remote underwater video systems (BRUVS) being included since 2004. Something I probably didn't give enough thought to initially was the difference in camera quality over the years we sampled. In 2004, AIMS were using a Sony DCR-TRV Handycam on their BRUVS which, although a great camera in its day, doesn't stack up with the imagery we are now getting with the GoPros. This made fish assemblage comparisons difficult as it was impossible to identify some of the smaller species to the same level we were able to in the most recent survey. As a result, we decided not to make an assemblage comparison to the 2004 data instead focusing on regionally fished species that are larger and capable of being identified across the years surveyed.
What was the most memorable moment in undertaking this study?
I think the beauty of the Rowley Shoals continues to surprise me. AIMS has a big focus on filling knowledge gaps and it was an incredible experience to be uncovering the secrets of Rowley Shoals' mesophotic zone. The diverse habitat types in the mesophotic zone were remarkable as were some of the species we recorded. One memorable moment was when a BRUV came back from the deep absolutely destroyed. The strong stainless-steel frame and bait arm was bent up and folded over. I thought surely this must have been caught up on the reef? On revision of the footage, a rather large tiger shark had taken a liking to the baitbag and engulfed it. A few barrel rolls with her power and weight was no match for the poor old BRUV frame.
What was your favorite research site in this study and why?
The Rowley Shoals is made of three atolls and although all are brilliant in their own right, I think Clerke reef is probably my favourite atoll with its set of channels into the lagoon being full of life and activity. There are also some great sites on the reef slope which usually come with a visit by a humphead maori wrasse or bumphead parrotfish. Imperieuse had the most notable mesophotic habitats with some really interesting and diverse benthic communities.
Other than your co-authors, with whom would you like to share credit for this work?
AIMS is big on collaboration, and the volunteers that joined us at the Rowley Shoals for 21 days were all essential to the success of this study. Particularly Fernanda Rolim who sacrificed much of her diving time with the coral team to assist the BRUV team (always a big ask at the Rowley Shoals). The master and crew of AIMS' RV Solander were (as always) brilliant in their safe and efficient operation that makes this research so enjoyable. Glenn Moore at the WA Museum was very helpful sitting down with me for a number of hours to identify some of the tricky species that came up in the deeper water. This study was conducted as part of AIMS' North West Shoals to Shore Research Program and was supported by Santos as part of the company's commitment to better understanding Western Australia's marine environment.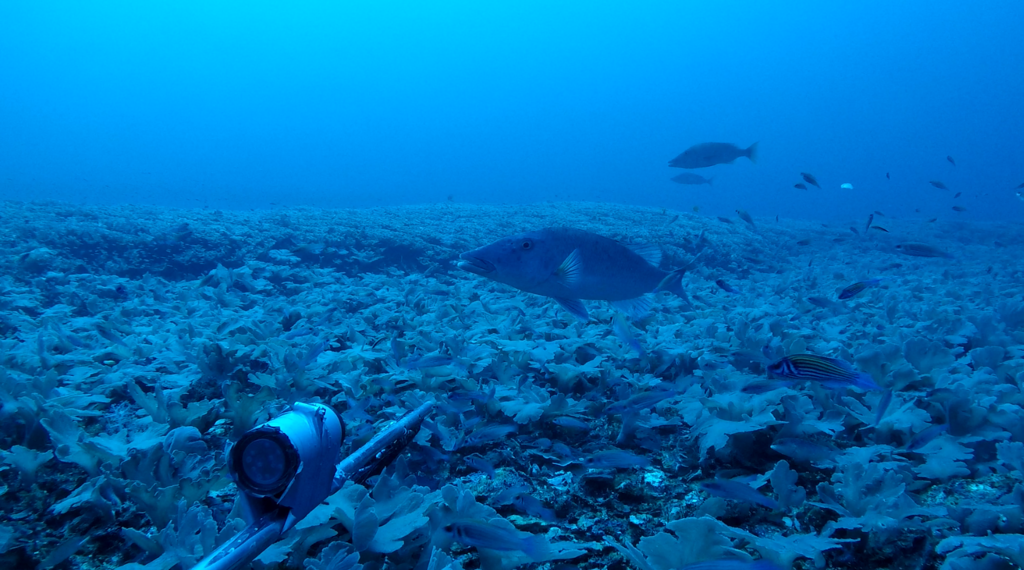 The fish assemblage in the mesophotic zone was distinct from the slope and lagoon driven by species like the endemic mutant fairy wrasse (Conniella apterygia; small striped fish on right) (C) AIMS/Matthew Birt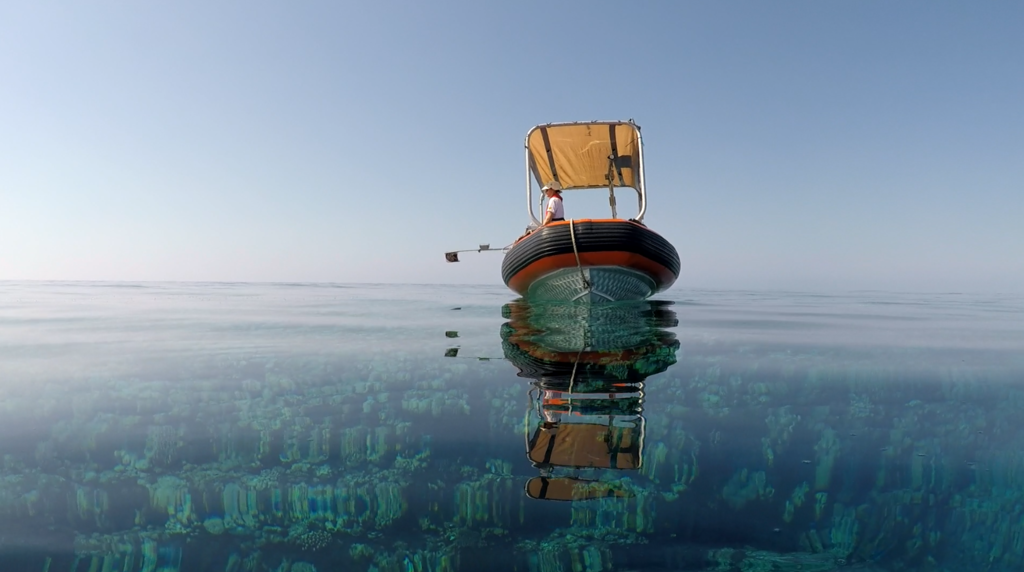 Fernanda Rolim at the ready for a BRUV drop. One of those days when the conditions make it hard to wipe the grin off your face (C) AIMS/Matthew Birt
Any important lessons learned (through mistakes, experience or methodological advances)?
Navigating throughout the Rowley Shoals can have its challenges. The channels to get in and out of the lagoons can have strong currents and conditions are variable with tides. There are many bommies to navigate and shallow sections to cross. We found that using arial imagery on tablets to navigate throughout the lagoons to be very handy. Further, we learnt that the tide charts we were using were inaccurate. One of our coral reef hydrodynamic researchers Camille Grimaldi did some fantastic work in correcting this which made life much easier. Tides are important to consider not only for navigation throughout the atolls, but when deploying BRUVs in the mesophotic zone as runoff from the reef can put too much drag on the ropes either flipping the BRUV or taking the floats under.
Can we expect any follow-up on this work?
Yes our Western Australia's Department of Biodiversity, Conservation and Attractions (DBCA) collaborators have repeated our 2018 survey continuing the monitoring of the Rowley Shoals. Historically the focus has been monitoring of the reef slope, so it is great that AIMS and collaborators are going deeper to also capture our lagoon and mesophotic habitats.
Featured article: